A box truck wrap is most definitely a mobile billboard. Companies with wrapped vehicles are maximizing their marketing footprint. Some companies could not do what they do without with the use of box trucks and some do not use them, but every company would benefit from a box truck wrap! They are one of the biggest attention generators in traffic and they tower above almost all vehicles on the road. This makes a box truck wrap extremely effective. We just finished the design, print and installation on this box truck for Comfort Zone. Comfort Zone is a subsidiary brand of Foamaster located here in Fort Worth, Texas. Comfort Zone is a spray insulation company with a great reputation with making your home as energy efficient as possible. Homeowners CAN retrofit their homes with more energy efficient insulation. From the Foamaster website: "Their utility bills will be significantly lower and the savings will pay for the retrofit in a matter of months". If you need spray insulation for your home these are the guys to call. Foamaster is located at: 360 Mesa Grande Dr in Fort Worth, Texas 76108 Telephone: 1-844-800-FOAM – E-mail: info@foamaster.com Website:www.foamaster.com
Shane Batson, the CEO of Foamaster/Comfort Zone knows the impact of wrapping all of their vehicles. A box truck wrap in the DFW area will be seen by 70,000 to 100,000 people a day if used for picking up, delivering or providing a service on a daily basis. Another benefit of a box truck wrap is that even when it is parked it is a viable form of marketing brand awareness. if allowed, you can park your box truck on the corner of a busy intersection or in front of your own office or store front.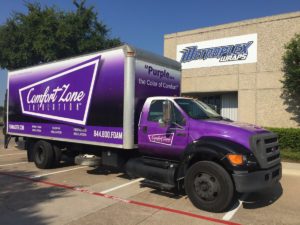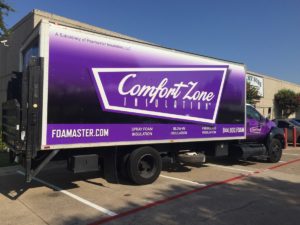 Call Metroplex Wraps for your next box truck wrap today at 817.997.4431 or Come See us! We are located at 2161 E. Loop 820 N. in Fort Worth, Texas 76118next door to Texas Master Craft Boats!